I'm rapt to have had a feature story about my book project in the Bendigo Advertiser on Saturday January 12th. A big thanks to Tom O'Callahan for his excellent article; and to Steve Bright, who shared his experience of letterpress (and his equipment) for the story on short notice.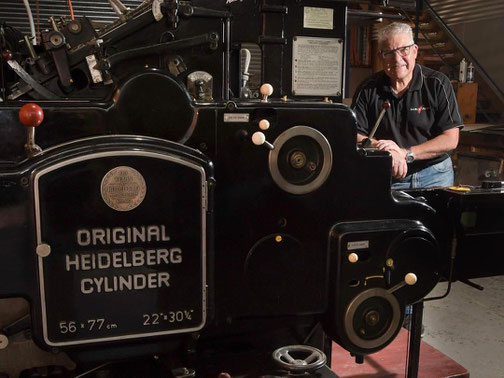 Harebrained has a new ally as it moves into the third and final stage of printing: the aforementioned Steve Bright, founder of bARt n PRINt, a leading, state-of-the-art printing business in Bendigo. Don't worry―this doesn't mean I'm going digital! Steve is a letterpress printer and hand compositor (specialist at setting type by hand) from way back.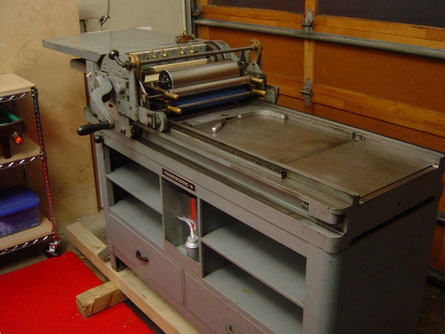 Such is his devotion to these crafts that he's amassed a museum-sized collection of letterpress equipment―including an operational press that I can use. This means I'll be able to finish the remaining 49 pages close to home. Here's an image of the type of press I'll be using: a Vandercook Universal, Number 4.
It's also great news for the artists and history-buffs of central Victoria, as Steve intends to offer his studio and his knowledge to the public in the years to come by running classes and residencies at his Deborah Street business.
Nearing the End of Endpapers
My endpapers are piling up as I near the completion of my five-month marbling project: 300 hand-marbled sheets! I've created these using a rigorous process which I've had to custom myself, to suit my cotton paper. The design featured on each sheet was first spotted onto a bath of thickened water (called 'size'). The paper, placed on the surface of the size, takes up the design; then it's dried, washed, and dried again. I then spray an agent called 'alum' onto the surface of each page so that my next layer of paint will stick. After flattening these alumed sheets in my book press so they go onto the size completely smooth, I marble them again. Then, more drying, washing and pressing until I have my finished sheets―each one a vibrant, individual work of art.
Check out the short clip of me marbling through the link above.
More accounts of pressing issues and successes to come!
Thanks for your support,
Beck Sutton.