I've been working Rinaldo the printing press hard, rolling out page numbers 113 to 120 of my book in the last couple of weeks. This means we're counting down to the time printing will be finished, as we count up to our concluding page: number 145. Wish me the endurance and focus I'll need to set the last 3,400 words by hand and crank the final 500-odd sheets of paper through the press!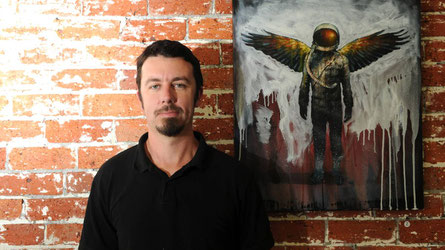 I wanted to use this edition to introduce you to the creator behind the images in my book, artist Kain White. In the eighteen years he's been practicing, Kain has worked mainly in painting, drawing and animation, with a focus on printmaking in recent years. He's a good match for me as a collaborator; aside from being my life partner, Kain's area of creative interest aligns with my own. Like me, he seeks to use his work to 'capture the essence of the relationship between the world and us.'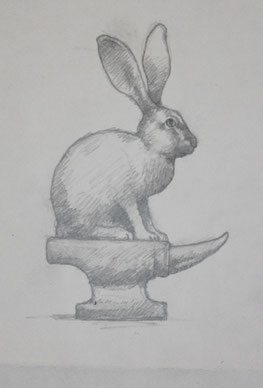 Kain his been an enduring presence in the project since Harebrained's inception. It was he who brought our logo from a sketch into the striking image featured in the banner above. And it's his dedication and skill that has taken each of the seven story images for my book from conceptual drawings to relief printing blocks that can be locked onto the press, ready to print.
Below are some of the preliminary drawings that have gone into the book's printed images, as well as a sneak peek at the image that will be featured on the cover, which Kain is 'fleshing out' at the moment.
Conceptual sketches in lead, ink and charcoal for the book's cover image