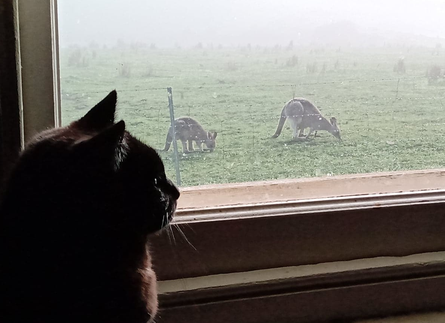 I hope this message finds you safe at this time, and finding some solace, as I am, in creative pursuits you might not otherwise have been able to enjoy. Creative work brings many blessings—whether that work be turning over the earth and planting your winter crops; setting your hand to a dish you've always wanted to cook; or finally writing down those stories that you would love to share with the world.
I feel so grateful to have the opportunity to continue my employment from home, while also making some progress with the book. Although there have been many delays and difficulties in sourcing bookbinding equipment and materials this year, time, patience and tenacity have helped me to bring together almost everything I need.  The challenges have also made me realise that this project will not be the culmination of Harebrained's work alone. With paper from Italy; paints and inks from America and Denmark; linen and hemp from Scotland; silk from Germany; carrageenan from Israel; leather from Queensland, the book will bring together materials born out of hundreds of years of workmanship in the crafts—not to mention the labour of all those hardworking posties! I sometimes reflect on how amazing it is, as a maker, living in a time when we can acquire anything, be it materials, equipment—even knowledge—through a screen and keyboard at home.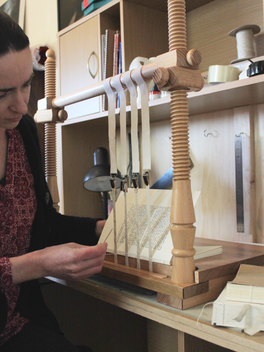 I'm also excited finally to move on from the strenuous work of printing and start on the gentler (seated) bookbinding pursuits: folding flat press sheets into sections; testing how papers, adhesives, threads and tools come together in endpapers and text blocks; and constructing the proof versions of the book.
Two wonderful pieces of equipment arrived in the post over the last few months. Sincere thanks to my family for their contributions to my 'ultimate' birthday present: a sewing frame (pictured above), custom-made made by the Australian guru of wooden bookbinding equipment, the wonderful Frank Wiesner. Watch the video on Frank's approach to his craft, posted below.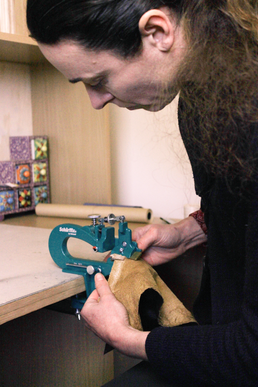 My second package, from Germany, contained a leather paring device called a Schärffix. When I made the decision early on in the project to produce a deluxe version of the book with leather spines, I didn't know the challenges presented by using this material. It can take many years to perfect the blade-craft necessary to thin the leather down consistently by hand—an important skill if you want neatly-bound books. The Schärffix is an adjustable device that will allow me to set the thickness or angle I need and skive the leather, without making costly mistakes.
---
The period at home has also allowed me to give this lovely old lady some much-needed attention. When you were first introduced to Ethane, the Golding Pearl printing press, back in February, she was dusty, rusty and covered in an unflattering shade of green paint.
After many hours trawling the Internet for very obscure parts, stripping back paint in a rubber mask, and gouging 130 years of grime out of oil ducts, she's back to her former beauty and is installed in the Harebrained workshop. Many thanks to Rick Hawkins of Java Letterpress in Georgia for your guidance in her restoration, and to Kain White, for making the drawers and feed board that compliment her so well. I hope to post some videos of Ethane at work soon—watch this space!