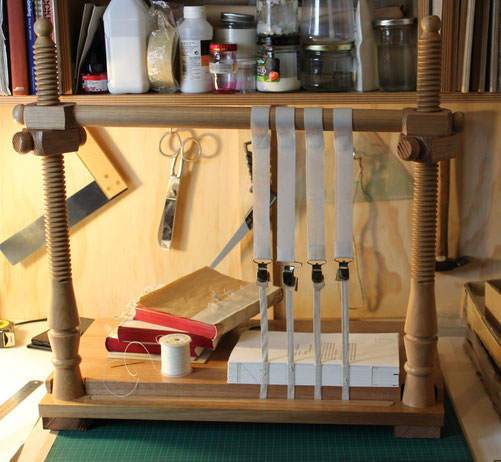 Yes, I'm still at it: folding press sheets, sewing pages together and testing materials—inching my way towards a finished book. I've come to realise that creating an edition completely by hand isn't just about bringing together thousands of materials in a very particular way. As if that's not enough, I've found that even before you begin you must undertake an elaborate science experiment: testing the pH levels of paper to see whether each will last for the long haul; putting materials together to see how they'll react; working out sequences of operation. It's even about getting a feel for where you place your fingers (and don't place them) when you're paring leather or gluing cloth to board or running a needle through paper. I keep having to remind myself that the phrase 'blood, sweat and tears' wasn't meant to be literal!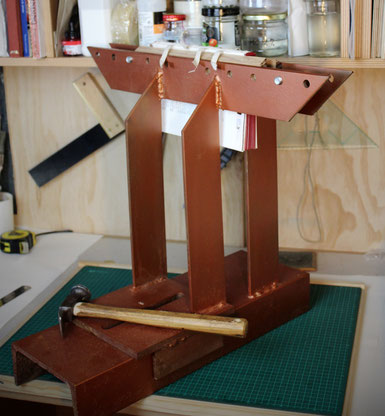 I'm now at the stage where I've finalised my materials and have worked out how each book needs to be constructed. This is largely because of the valuable assistance I've gained from two sources: bookbinder, Adrian Holland, who has talked me through many challenges and kindly given me his custom-made backing press (pictured here), a valuable piece of equipment used for locking the pages together tightly so that the spine can be rounded and fused (backed).
I also have Darryn Schneider to thank for his wonderful YouTube channel DAS Bookbinding, and for responding so kindly and helpfully to my relentless, questioning emails. If you're keen to try bookbinding yourself, or even to spend half an hour caught up in the hypnotising bliss of watching materials being skilfully unified into a book, do yourself a favour and check out his site:

---
Another thing I've learnt is that once you develop a love for making books, you also acquire one for the tools of the trade—and inevitably find yourself accumulating them. This is especially true for letterpress printing, an equipment-intensive craft with the added allure that its equipment is rare. As an initiated printer you become a magnet for all things metal, which is my excuse for adding yet another printing press to my collection!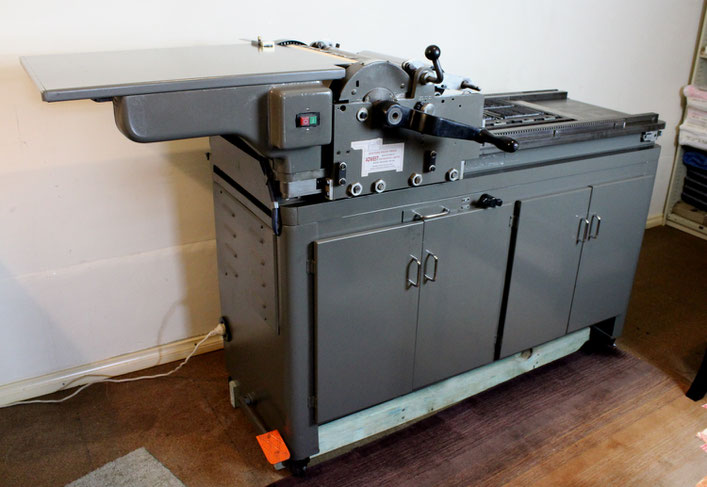 As is the case with all presses, this one comes with a story. Like Ethne, the Golding Pearl I recently restored (and mentioned in my last blog), this Western cylinder spent decades in storage at the Melbourne Museum of Printing. In November of last year, at the MMoP auction, it was rescued from a possible end at the scrap metal yard by Keith Wiltshire and Nancye Canobie of Equinox Printing. Keith and Nancye have run a business in Chewton for many years, constructing their coveted etching and lithographic presses. When I saw this 800-kilogram monster in the back of their van, bound for their home and restoration, I had my doubts that it could ever be resurrected. The inking rollers had melted onto the bed of the press, forming a sticky goop that had eaten away at its body in rust. But Keith worked his magic, spending many months restoring it to the beautiful working press that it is today. Knowing its story, how could I resist when Keith put it up for sale?
Owning this press is a dream come true. It means that I now have the equipment I need to print more full-length books in the future, something that would have been impossible while inking my type by hand. It means I no longer have to haul a heavy roller from the inking table to the press, and no more collapsing, exhausted, at the end of a print run.
Check out some 'before' and 'after' photos:
'Before' photos courtesy of Keith Wiltshire