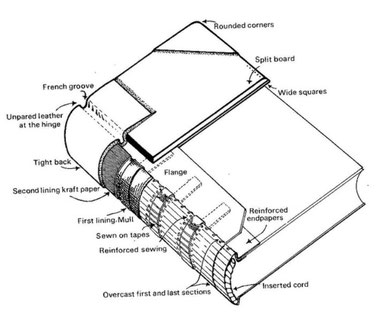 I've finally leapt into the first stages of binding my books. Having cut and folded and glued my way through the challenges and the fun of building up skills, I've now chosen a book design that's strong, pleasing to the hand and eye, and made from materials that will last. 2021 has been all about bringing together fifteen years of work.
---
Endpapers, Endpapers and, You Guessed it, More Endpapers
You probably know that endpapers form the very first and last pages in a book, and you probably even admired the lovely pictorial front and back inside covers of your favourite books when you were a kid. You might even have come across some intricately-patterned ones in antique ledgers or musty volumes. But did you know that endpapers aren't just there to be decorative? They're actually meant to form an important part of the book's construction while also protecting its opening and closing pages.
You'll remember that I spent four months back in 2019 learning how to marble paper and working through the task of finishing 300 sheets for this project (you can watch the video here). In recent months I've had the pleasure of unwrapping these sheets, taking knife and glue to them, and forming them into the endpapers that will strengthen my books. You can see them coming together here.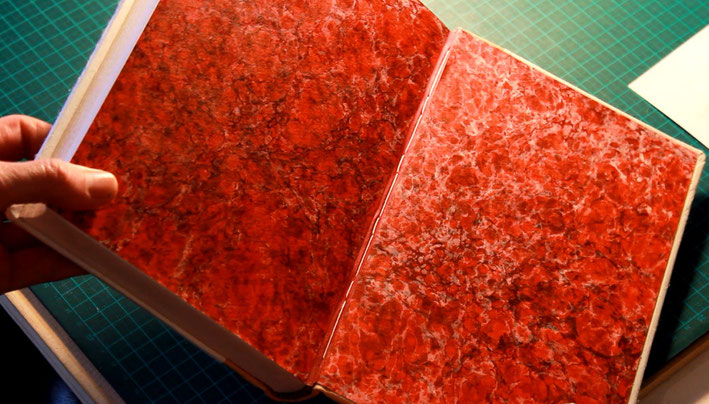 ---
The Curious Case of the Moulting Books
Starting out a career in printing, marbling and bookbinding with a 120-volume book project comes with its challenges. One of these is related to my decision to use kozo washi as the covering material for my books.
'Washi' is the Japanese word for paper, and kozo is the strong, tactile fibre present in mulberry bark, a material that's been used for centuries by the Japanese to make fine papers. I first set my heart on kozo washi a few years ago when I sought it out after reading a bookbinding post about its textural beauty, its archival properties, its strength—and its perfect suitability for book covers.
But there were few sellers for this delicious paper in Australia, and fewer still who carry it with the specs I needed—none, in fact. So, I took the plunge and ordered what I needed from overseas. After waiting four months as Covid shipping suspensions halted all stock leaving Japan, after cancelling and re-placing my order in the States (despite the $102 US postage fee), finally my 32 sheets of precious kozo washi arrived.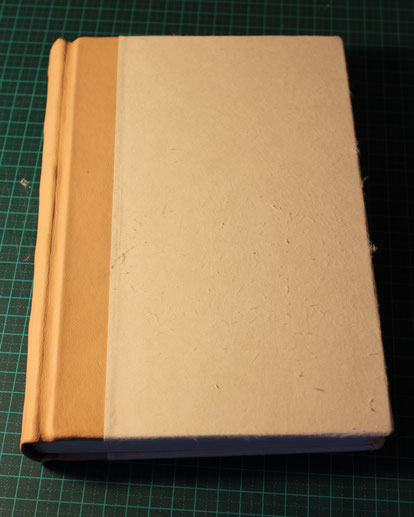 Imagine my dismay when I learnt the hard way what any bookbinder worth her salt already knows: you must test your materials before investing a king's ransom in them. When I ran my fingers over it, the surface of my kozo washi fluffed and pilled like a mangey cat. My test books were moulting!
After a tense week spent furiously researching methods of treating Japanese paper and after consulting with my online bookbinding mentor, Darryn Schneider of DAS Bookbinding, I had a solution: Methyl Cellulose. This chemical compound, derived from cellulose, can be used as a food thickener, a laxative—and even as a medical substitute for tears and saliva. When mixed with water, left to thicken and applied with a soft brush, it's also used to form a coating for fibres, protecting them from absorbing water and oil. Guess what I've been doing for the past couple of months?

The next step involves burnishing the washi between two smooth surfaces to compress the kozo fibres and leave a silky finish. Below you can see me using my glass paperweight on the paper, which had been placed on a slab of polished granite.
You can see for yourself by the finish on this book cover whether the extra labour is worth it. For me, there's no question.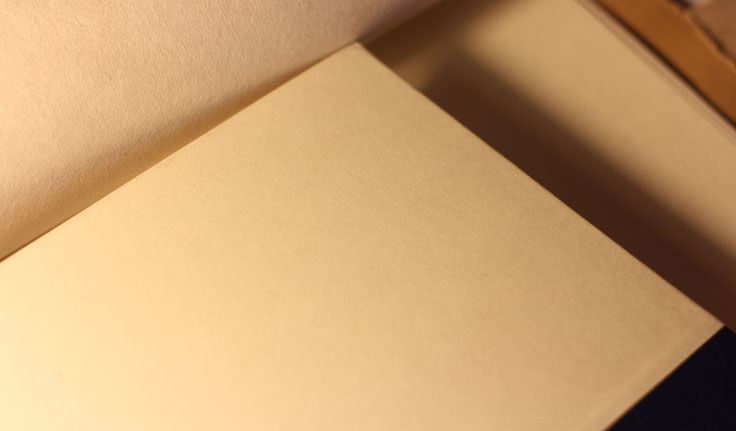 ---
The Dies Have Been Cast
In other news, the last of my printing and foil stamping dies have recently arrived from Industrial Engravers, Australia in Dandenong. These blocks will be used to print the outside cover text on my hard-won kozo washi—and to stamp the logo onto the spine. They offer a you sneak peek of how the finished book will look.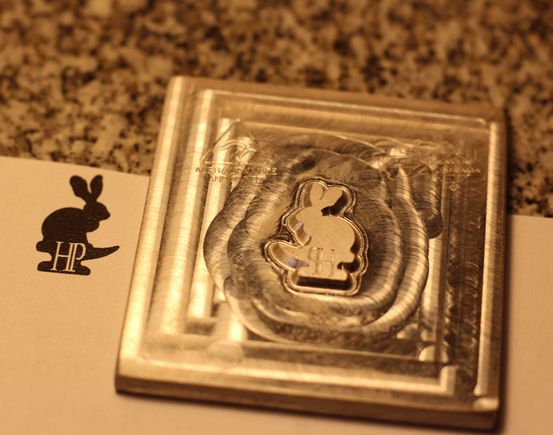 ---
Images:
Library Binding Style image from: Johnson, A. W., Bookbinding. London: Thames and Hudson, 1978, p. 104
Endpaper Image 1: Atlas Obscura, 'The Unsung Delight of a Well-Designed Endpaper', online: www.atlasobscura.com/articles/best-endpapers-design-history
Endpaper Image 2: The University of Adelaide, 'The Marbled Endpaper', online: www.adelaide.edu.au/library/special/exhibitions/cover-to-cover/marbled-endpapers/