After four months of weekends spent travelling to Melbourne to sweat for twelve hours over the printing press before crashing out on friends' floors, I was desperate for an alternative workspace. I found it in HipCat Printery, a letterpress studio that had just moved to Newbury, ten minutes from the township of Trentham. This studio was pretty much the opposite of everything my first workspace had been. While Melbourne's was located in West Footscray's busy industrial area, HipCat stood beside a country farmhouse amid lush farmland and towering gums. You could hardly imagine a more picturesque location for a studio. 
Above: HipCat Printery while still under construction
On my first visit, the printery had been newly-built by Lawrence Finn: artist, letterpress printer, and man of many talents. At this time, it was little more than a shed with a wood fire stove and a concrete floor. It wasn't long before I understood why Lawrence had prioritised installing the stove before anything else. In August at the top of the Great Dividing Range, long johns come standard issue! The plaster, installed by Lawrence weeks before, was still wet. 
Lawrence was enthusiastic about my project being the first to come through his new artists' access studio. By October, I was there every second weekend, printing on 'Peta'—his lovely German-made Asbern press. This machine had an in-built function that allowed me to adjust the amount of pressure on the type with a lever, making setting up for printing much more straightforward. It was also of great benefit to have an artist like Lawrence around, well-seasoned with printing books and woodblocks. Troubleshooting was no longer the agonising ordeal it had been.
My new routine involved spending—on average—twenty hours each fortnight setting type before travelling the 260 kilometres to and from HipCat over two days. There I'd print 160 copies of eight pages before heading home to distribute the type, ready to set again. As I tackled setting the wordier pages I ran into new problems. Namely, running out of 'sorts'—the individual letters that made up the type pages I printed from, known as 'formes'. From an email to a friend during this time:
'Okay, back to typesetting for me! Do you know, these formes have been the hardest to set yet? …I've had 8 text-dense pages to set with a depleted amount of type. I've had to replace the characters [sorts] I've run out of with their size equivalents to get the pages made up. And I've also run out of thin spaces, so I've had to fabricate my own by snipping off the tops of my closed quotations! It's been hilarious.'
But, relatively speaking, I made rapid progress, and this helped to keep me going:
'The session was a success in that I completed pages 81-88. It took two sessions, but that's with a block and a second colour. I had to hand roll the block each time (listening, as I rolled, for a hiss of a particular pitch and watching for a particular play of light on the ink); and each sheet had to go through the press three times. So, considering all these things, I suppose it's a success. I'm strangely detached from feeling the small victories, knowing the extent and nature of the work.'
In spite of these graces and victories, printing my book during these nine months was bloody hard work. The Newbury location brought its own series of challenges. It was remote and, at the time, the studio didn't have a sink or a toilet. When Lawrence was away and there was no access to the house bathroom, I had to 'go bush'.
'Had a not so good day printing today. Forgot to take my thermos, so missed out on my sustaining cuppas…Had gremlins moving the type during my run, so I lost about three hours messing around with underlays and overlays. In the end…I got less than half of what I wanted done today. If there were a bathroom in the studio, I would have wasted more time in there crying. Fortunately, there isn't. Anyway, that's how it runs with this letterpress beast. When it's going well it's blissful work; when it isn't, it's hell on earth.'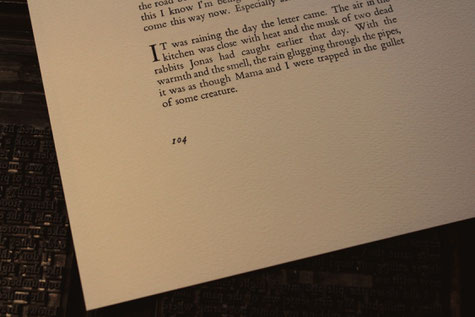 Also, driving fifty minutes to the printery in the early morning and home after dark was a harrowing affair. The local state forest wasn't called 'The Wombat' for nothing! Wildlife lurked in the scrub close by the road, and in the colder months the paddocks glowed with frost. It often rained. Sometimes it snowed. I remember one day being in the middle of a print run when a flurry of snowflakes whirled past the window. I hadn't frolicked in the snow since I was a kid, but at that moment I was wrestling with ink, press and paper—or how, in the freezing temperature, this combo tore the surface off my precious press sheets. I swallowed down the lump in my throat, promised my inner child that we'd play in the snow another day, and kept working.
 In August of 2018 I broke page 104—an achievement that, in my messiest moments, I'd thought impossible.  But at the time I hardly felt the milestone. I was exhausted. I realised that the travel to Newbury was unsustainable. I made the difficult decision to put printing on hold until I could buy my own press and work from home.
See some footage of HipCat's Asbern press at work printing one of the book's engraved images.